GUJRAT  –  THE CITY OF JEWELS
The stone carving in india is wonderful, but gujrat stone carving is one of the best. As it is in found in old cities, step well, pola forest, and temples of gujrat in india. Even if you are not religious or spiritual, still you will love this hyperphysical place.. for its beauty, for its architecture, for its carving and sparkling clean marble. Here you can enjoy horse riding and shopping of carved marble furniture also.
I know you all heard this ( GUJUT SCULPTURE STAR TOUR ) for the first time as this is introduced by goingindiaa only. We made this just for you. In this we would like to take you to five of the best carving places in Gujarat and give a unique and different experience everywhere like horse riding, body massage in lap of nature, carved marble furniture and jewellery shopping and you can also enjoy the visit of wish fulfilment well of Gujrat. Now I will tell you a little bit about all these places and also show their pictures but I will definitely say that I will not be able to tell you completely everything about these places as You will be able to know these places very well only when you will see and feel them by coming here in India,Because in India, the beauty of everything is recognized by feeling it not by looking at it and you will be able to feel it when you come here.But I can assure you that when you come here you will have a wonderful experience.
1 .  Ahemdabad old city:
The lanes of old Ahmedabad are having a very organized habitat design called pols. Pol houses are considered as primary housing typology built for more than three hundred years in the old city of Ahemedabad where tourist can enjoy arikshaw ride and alley walk.  Ahemadabad has a rich heritage of settlement patterns in its historic old town. The most attractive and eye-catchy fact about pol houses is its exquisitely, lavishly and intricately carved wooden panels which are adorning the entrance, wooden pillars, brackets and windows, etc. The artistry of each piece will give an observer an awestruck, which can easily take you to that era.  The architectural style of these Havelis is clearly showing an amalgamation of Mughal-Maratha influence. The intricately carved flora and fauna, mythical characters like yali, the parrots,elephants, horses,  peacocks, and human figures, all these are creating a royal extravaganza for the visitors.
2. Sun Temple
Sun temple is located at Modhera in Gujarat. The temple, built in 1026 AD and it is dedicated to the Hindu Sun-god, Surya. The temple is approached by a flight of steps and is built on a plinth. The marvelous stone carvings on the temple give life to the stone temple and here tourists can enjoy 1000 year old sandstobe carving. The intricate carvings in stone depict a marvelous quality of precision in Indian craftsmanship of that time.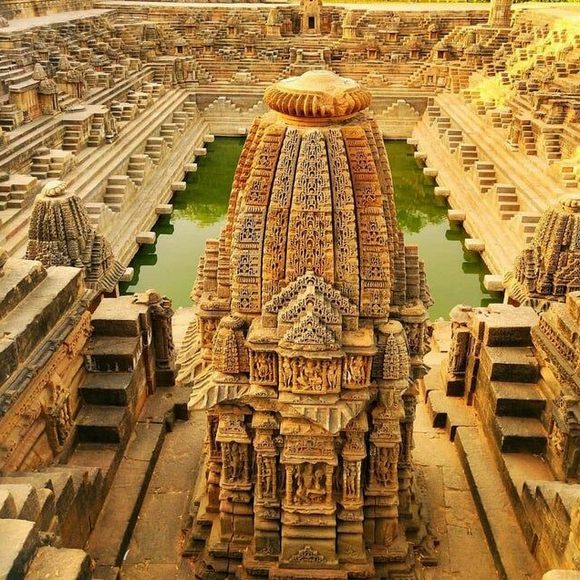 3.  Queen step well
Rani-ki-Vav, on the banks of the Saraswati River, was initially built as a memorial to a king in the 11th century AD. This is a distinctive form of subterranean water resource and storage systems on the Indian subcontinent. it is divided into seven levels of stairs with sculptural panels of high artistic quality. here tourists can go at the deepest step of well and enjoy the carving. There is a very good and true belief of this place, if you come here and ask for any unfulfilled wish by putting a coin, then that wish will come true, that is why we also call it a wish fulfillment well.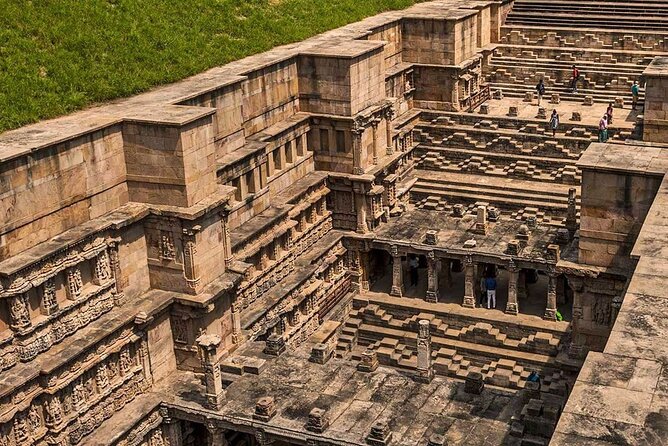 4.  Pola forest sabarkantha
Polo Forest can be explored all year around. You can experience the majestic eco tourism beauty in all the seasons. But the majority of the tourists prefer travelling in monsoon and winter — between August and February. It is the time when the forest greenery is at its peak and the river is brimmed with water. In this season tourists can enjoy the carving and beautiful nature simultaneously.
5.   Satrunja Hill Temple
The Palitana temples on Shatrunjaya Hill were built over a period of 950 years ago. It was Kumarpal Solanki, a great Jain patron, who built the first temples on this site.  The hill is 3 kms from Palitana proper. Here tourists have to climb 300 stairs, which is an unforgetable experiance for them. Here they can enjoy the body massage in the lap of nature. Here mule ride is also available for old people. so people of any age group can visit this place.
For information of tours, please write us.
A Destination Management Company – Tour Operator India, Nepal & Bhutan
E : contact@goingindiaa.com OR goingindia5@gmail.com
T: +91 8076387926
W: goingindiaa.com
Address – H. No 5/11, Chakerverti Moh, Dayanand Street, Kurukshetra 136118
Like us : https://www.facebook.com/Going-indiaa-893893524065259/?ref=aymt_homepage_panel
Instagram : https://www.instagram.com/goingindiaa/
Follow us : https://twitter.com/goingindia5
LinkedIn: https://www.linkedin.com/in/anurag-dasambar-7205ba121/